Help the Bahamas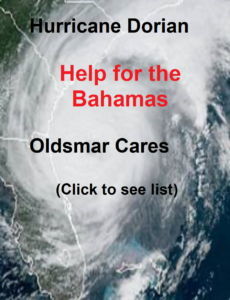 Help the Bahamas recover from Hurricane Dorian
Update on our disaster relief help to the Bahamas:
Out next shipment of items will go out this weekend with Sol Relief. We have spoken with people on the ground about which items they are most in need of. They have lots of items like toothpaste, pet food, and water so in order to best serve the people of the Bahamas we will only be able to accept donations on the list below. If you had already planned on donating other items (like toiletries and clothes) please feel free to bring them and we will distribute them to those in need in the Oldsmar Community.
We will collect supplies at the church during regular business hours, Monday through Friday.
You can also drop off directly at Oldsmar Cares or at New Hope Baptist Church 415 St Petersburg Dr. E, Oldsmar, FL 34677. (Note times below)
The next shipment is going out on Saturday!! So until Saturday
Bring Supplies Directly to Oldsmar Cares,
163 State Road 580 West, Oldsmar
DROP OFF TIMES
Thu    Closed
Sun Closed
Give directly here Oldsmar Cares Bahama Relief Fund
Or help by donating the following items:
New list:
Generators
Accessories for the generators
Gas cans
Camp stoves
Propane for camp stoves
Can openers
Solar phone chargers
Battery operated fans
Phone battery packs
Baby supplies, food and formula
Canned goods & non perishables
Thank you all for your kindness and generosity!
#OldsmarCares #Oldsmar #HurricaneDorian #DisasterRelief #Bahamas #Donate