Events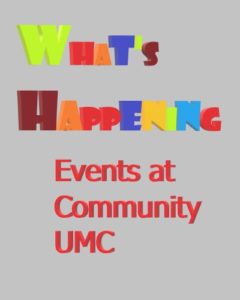 This Saturday, June 4 at 9 am we are having a workday!  We can use quite a few volunteers.

This Sunday after the service we will have a short meeting for the Nursery/Kids ministry. 
We need volunteers so that we can minister to our children.  If you are willing or want to learn more call the church office at  813-855-1567 or send an email to 
secretary@wearecommunityumc.org
.  We will make certain that you are contacted about this important ministry.

Please note that we are starting to open the church for meetings, but will offer zoom for those who are not yet ready to attend in person.

Monday @ 6 pm Finance meeting in the Howie room and zoom.
Tuesday @ 8 am Men's group meets in the Children's Ministry Center.
Wednesday @ 7 pm Bible Study in the Howie Room and on zoom. You are welcome to join any week.
Friday @ 10 am Prayer in the CMC and on zoom.